Take the LEAP!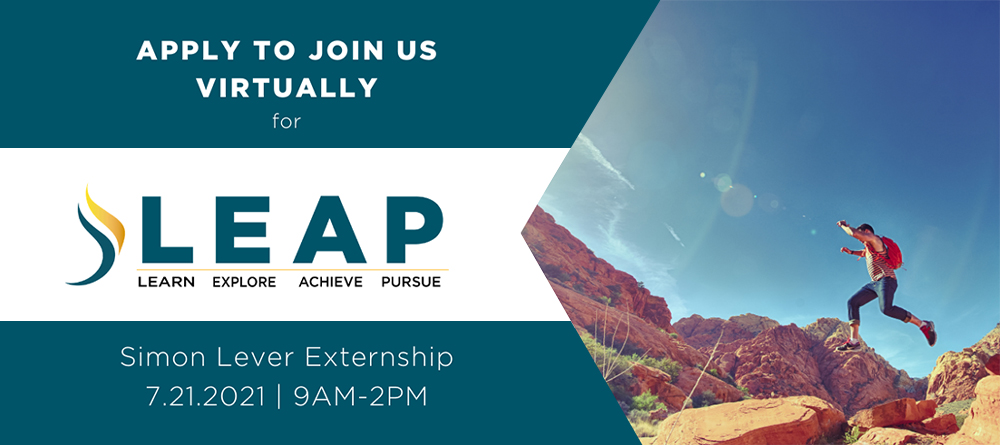 March 12, 2021 |
Simon Lever is holding its annual LEAP Day virtually on July 21, 2021, from 9 a.m. to 2 p.m. LEAP Day is a one-day externship program geared toward rising second- and third-year college students who are studying accounting. Participants will LEARN about the culture of Simon Lever, EXPLORE public accounting, ACHIEVE their career goals, and PURSUE knowledge about the CPA exam. Plus, there is a chance to win a $250 scholarship!
LEAP Day features various sessions in which participants will interact with Simon Lever team members and fellow attendees. There are several interactive and informational sessions, such as:
CPA exam insights session with staff who have recently passed their exams
Walk-through of "a week in the life" of a staff accountant at Simon Lever
Panel discussion with a variety of team members
LEAP Day also includes an informal lunch session, during which participants can chat with Simon Lever team members on a more individual level. Here's what one past participant shared about their experience:
"Every person seemed passionate about what they do and eager to share why and how they felt that way working at Simon Lever. I felt comfortable to ask questions and engage with everyone there. All discussions and activities felt genuine because of the staff facilitating them."
At Simon Lever, collaboration and teamwork are essential in serving each other and our clients with excellence. To simulate this environment of teamwork, participants are assigned to small groups to discuss and determine a solution to a business challenge. In this session, participants are called to bring their strengths and unique perspectives to the table. They can show creative thinking, problem solving, active listening, verbal/written communication skills, and group interaction — all essential building blocks of great collaboration.
Externships are an important step on a college student's path to gaining real-world experience in their field and building rapport with potential employers. At Simon Lever, we enjoy getting to know students through our LEAP Day program and giving them a firsthand look at a career in public accounting. LEAP Day is also one of our primary methods for identifying students who would be great fits for future internships.
If you are interested in participating in Simon Lever's LEAP Day, we invite you to apply at https://simonlever.bamboohr.com/jobs/view.php?id=41. Contact recruiting@simonlever.com with questions.
About Simon Lever
Founded in 1951, Simon Lever is an independent, full-service business advisory and CPA firm whose core purpose is to maximize the success of those with whom they partner. Focusing on employee, client, and community, Simon Lever is dedicated to offering services above and beyond compliance that provide their clients with a financial advantage. A business looking to grow, streamline productivity, become more profitable, and garner assistance with navigating the complex world of taxes and compliance can turn to Simon Lever for Advice When It Matters Most.