Simon Lever Hires April Hoelscher as Director of Business Development & Marketing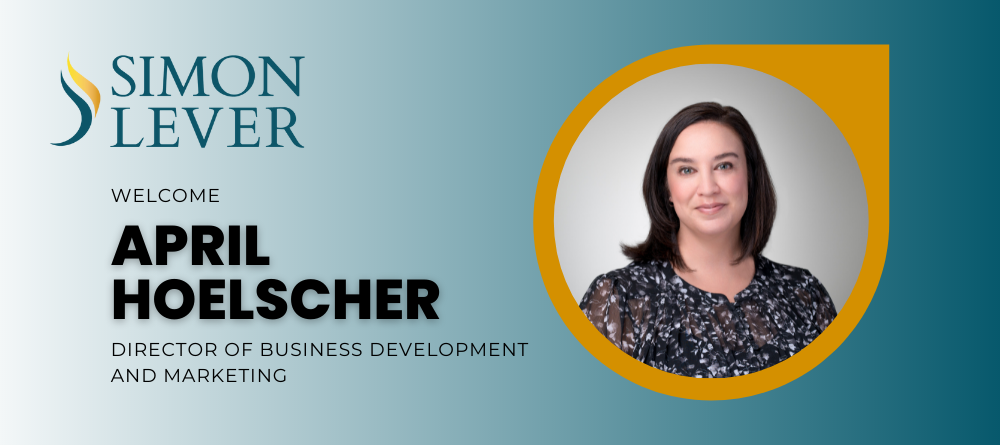 April 27, 2022 |
Simon Lever welcomes April Hoelscher as the Director of Business Development and Marketing. April joins the Simon Lever team with over 20 years of experience working in various marketing leadership roles. She brings expertise in strategy development, brand positioning, product marketing, marketing communications, and content marketing.
"April has experience working with companies in growth phases," says Sara Bruton, COO at Simon Lever. "She has knowledge across various industries, allowing her to bring a unique perspective to our firm."
Simon Lever launched the search for a new Director of Business Development and Marketing as the firm began laying the foundation for future growth. April is passionate about helping businesses grow strategically to reach their full potential. Her role at Simon Lever is to develop marketing strategy and community partnerships, building brand awareness in the communities served by the firm.
"Creating this new role is one of our first steps as we prepare for future growth," says Jason McDougall, CEO at Simon Lever. "April's role allows us to dedicate time and resources to help build our infrastructure and our processes to fuel strategic growth."
April began her career working for the iconic Lancaster County pretzel brand Auntie Anne's. She also had the good fortune to work for other amazing Central PA organizations across many industries. April has held various roles in manufacturing and technology organizations, including Armstrong Flooring, Fenner Drives, and Listrak. She has additional franchise brand experience with Duck Donuts and also co-owns a Tropical Smoothie Cafe with her husband.
In her free time, April enjoys spending time with her husband, her two sons, and a house full of pets — including two golden retrievers and three cats. She can typically be found watching her kids participate in their passions, on the sidelines of a soccer game or in the stands of a football game, rooting on the marching band. In the off-season, she enjoys reading, cooking, baking, and watching true crime shows on Netflix.